About Us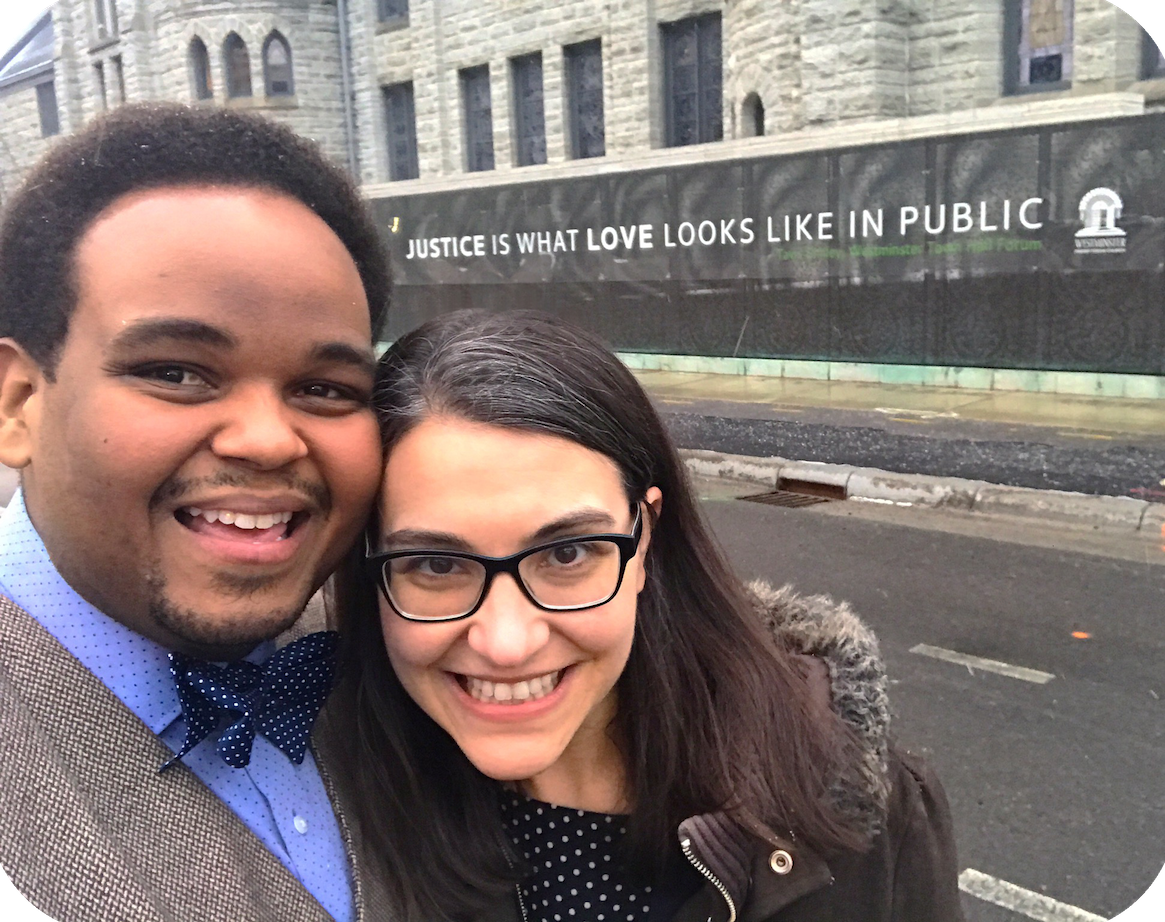 Tesfa & Abbie in front of Westminster Presbyterian Church, Minneapolis
We are Abbie, Tesfa, and Andrea, and we're just getting started! We began designing Justice Choir just after the Women's March in January 2017. Our first two projects are to create a new songbook, and to roll out our flagship chapter, Justice Choir-Twin Cities.
You can help build momentum for this social singing movement!
Follow us on Twitter: @JusticeChoirALL
Like us on Facebook: @JusticeChoir
Get more info by email: Join our mailing list
Organize for justice in your own communities.
Keep building support for social singing. When we have our Songbook ready, we'll be looking for chapter heads around the country.
We are incredibly grateful to our partner for Justice Choir Songbook, Vol.1 and Justice Choir-Twin Cities: Westminster Presbyterian Church, Minneapolis
---
Bios
Abbie Betinis is a composer and publisher based in St Paul, Minnesota. A two-time McKnight Artist Fellow, she also has been listed by NPR Music in their 100 Composers Under 40, featured in the Public Television documentary "Never Stop Singing," and her music has been broadcast on National Public Radio and Public Radio International. She has held residencies with The Singers-Minnesota Choral Artists, The Rose Ensemble, and the New York State School Music Association, and is currently Composer-in-Residence for The Schubert Club and Adjunct Professor at Concordia University, where she teaches composition and choral arranging.
Her music is published primarily by her own venture, Abbie Betinis Music Co, which distributes worldwide from Abbie's studio in Saint Paul. As a publisher, co-founder and past president of the Independent Music Publishers Cooperative, Abbie has presented at national conferences of the American Choral Directors Association, Chorus America, and in residencies at music schools across the country on the changing industry of self-publishing, self-promotion, cross-marketing, and copyright.
Abbie began studying music by ear at age 4, in the Suzuki method, and was soon leading her family in her own compositions, painstakingly teaching each of them their "pawts." She has since sung with the St. Olaf Choir, Dale Warland Singers, The Singers-Minnesota Choral Artists, and multiple small a cappella groups. She currently sings high tenor in the doo-wop quartet, The Fairlanes.
Abbie comes from a long line of community activists who worked for issues of justice and peace, and who nurtured the same ideals and work ethic in her. As a three-time cancer survivor, she has learned about living in a state of perpetual resistance, though privately. Public activism is a newer venture for Abbie. As one sign read: "It's so bad even the introverts are here."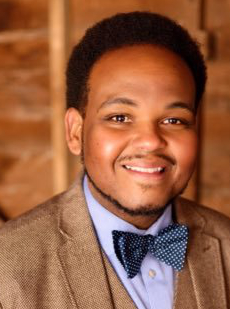 Tesfa Wondemagegnehu, Director of Choral Ministries at Westminster Presbyterian Church in Minneapolis, previously served as the conductor of The Radio Choir from American Public Media and manager of APM's Choral Works Initiative, in St. Paul, MN. As a high school teacher, he was named Orange County Public School's Teacher of the Year and received the Macy's National Magic of Teaching Award. He led his choirs in performances at state conventions of the American Choral Directors Association and the Florida Music Educators' Association, and most recently presented a clinic at the 2015 American Choral Directors Association National Conference.
Wondemagegnehu is widely in demand as a guest conductor and lecturer. He has performed, presented workshops, and conducted honor choirs across the United States, Canada, Germany, Austria, Hungary, and Costa Rica.
Tesfa Yohannes Wondemagegnehu holds a Master of Music degree in Choral Conducting and Vocal Performance from the Florida State University and a Bachelor of Music degree in Vocal Performance from the University of Memphis.
Dr. Andrea Ramsey enjoys a national presence as a composer, conductor, scholar, and music educator. Her teaching experiences range from work with adolescent and children's voices to high school and collegiate voices. She enjoys regular opportunities to conduct all-state and divisional level honor choirs, festival events at Carnegie Hall, and serves as a principal conductor for the Pacific International Young Women's Choral Festival in Eugene, Oregon. Before leaping into full time composing and guest conducting, Andrea held positions in choral music education and conducting at The Ohio State University, and the University of Colorado Boulder, respectively.
An ASCAPlus award-winning composer, Andrea has approximately 90 choral works in publication and believes strongly in supporting living artists through the creation of new works. Her compositions have led to residency collaborations with the Allegro Choirs of Kansas City, Ithaca College, and the Crescent City Choral Festival in New Orleans. As a scholar, she has presented for state, divisional, and national conventions of the American Choral Directors Association, the 6th Annual International Symposium on Sociology in Music Education, and at the Phenomenon of Singing Symposium in St. John's, Newfoundland, Canada. She has authored and co-authored articles published in the Choral Journal, as well as the Journal of Research in Music Education.
A native of Arkansas, she has experienced in her own life the power of music to provide a sense of community, better understanding of our humanity, and rich opportunities for self-discovery.